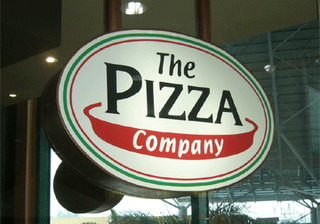 Today, the Makati Brunch Club decided to step out of its native roots, and headed off to Taguig for its first non-Makati restaurant review. The beneficiary of this "special" distinction: The Pizza Company at the Market! Market! shopping mall in Taguig City.
The Pizza Company restaurant in Taguig is a delightfully clean place that offers Italian dishes for value. As the The Pizza Company - Fort photo above shows, festive wallpaper, preserved vegetables, and an open-air cooking area add to the pleasant vibes of The Pizza Company in Market! Market!
We ordered The Pizza Company's Fettucine Florentine
that was rich, creamy, and flavorful without being heavy. The pasta was cooked to perfection, al dente without starchiness. Abundant ham and spinach only served to enhance the fattucine experience.
We also ordered The Pizza Company's Pasta Bolognese, which was tangy and sweet, with generous servings of spiced ground beef.
A special treat that I finally got to claim was The Pizza Company's Bacon and Cheese Twists, which were heavenly and flaky, rich and truly delightful. We got this free, thanks for the Pizza Company Taguig's Loyalty Card promotions, which I was finally able to claim on a weekday.

Finally, the piece de resistance, the Pizza Company's pizza, which was a half-and-half, a treat they give because of their first-year anniversary. The top half in the photo shows the Pizza Company specialty, a mouthwateringly spicy Tom Yum Kung; the bottom half shows this Taguig restaurant's half-sweet, half-salty all-meat selection. We ordered the medium size crispy, which it was.
Price-wise, expect a heftier bill than usual at the Pizza Company thanks to almost 20% add-on in taxes. Ouch. Other than the exorbitant bill, which almost didn't justify the cost of the food, The Pizza Company is a fantastic restaurant in Taguig worth experiencing. I'd go back in a heartbeat. - Ganns


It has been one Italian place to another! In this particular rainy day, the club was once again in complete attendance and in full force as we trek down Market Market and indulge in a much-awaited Pizza Co. experience.

I personally have been to this resto a couple of times and I can say that it never fails to satisfy not only one's hunger but also some major Italian craving.

We ordered a personal favorite of mine, Pasta Bolognese. I'm not much of a fan of white/cream-based pastas and this bolognese is cooked to perfection. The sauce is so yummy and not oily at all; the pasta itself is perfect in every bite.

The pizza on the other hand is a character in its own. It was my first time to try the Tom Yung Kung pizza and since it's the pizza's take on the famous Thai soup, which I'm not a fan of, I didn't like it as much as I thought I would.

As for the All Meat pizza, as expected, it's so sinfully delicious. The crust is superbly thin and crunchy and the portions of meat are bountiful.

This place makes you fall in love with Italian food over and over again. - lean

Like Lean, I've also been to The Pizza Company in Market! Market! before. My all-time favorite dish there is the Fetuccine Florentine. I'm partial to tomato-based sauce as well but this pasta dish is to die for. Perfect white sauce in my opinion. It's not too creamy nor is it too oily. You don't feel your arteries clog up with the cream.

I also like their Tom Yung Kung pizza but then again I'm a thai food junkie. I don't think it's for everyone though, especially not for those that detest Thai food.

Other items on their menu that I recommend but we didn't order: their Stuffed Calamari (yummy baby squid stuffed with crabstick) and their Cheese Garlice Bread (yummy yummy for your tummy).

I will definitely go back to The Pizza Company in Market! Market! You go too!
-- Leigh


I'm not really a fan of pizza company. Maybe because I prefer my red sauce to be more italian- a little sour and not so sweet. And I didn't like the crust of their pizza that much too. I prefer homemade dough. Their cream based pasta seemed starchy. And maybe because I didn't like the Tom Yum Kung seafood pizza that we ordered that much. There's this tang of salty water or is it just my imagination? hehe I just liked the colorful decor amongst the wooden chairs. Nothin' beats
Itallianis
for me. :P -tina