Last Thursday, the Makati Brunch Club visited the delightful Oody's restaurant in Makati on the 2nd floor of Greenbelt 3. This time around, Idjea, Tina, Leigh, and I were accompanied by a second guest, fellow officemate and Thai food lover Michael Reyes.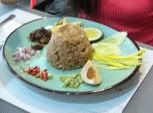 This is what I order most of the time... their exquisite bagoong rice! -tina
Oody's, to the uninitiated, is a welcoming Thai fusion restaurant in Makati City, known for a variety of dishes, including a flavorful pad thai, the exotic pandan iced tea, and the show-stopping tom yum goong, 2nd best in all of restaurants in Manila (the best tom yum goong, FYI, is available at Muang Thai, a tiny little Thai restaurant along Banawe Street in Quezon City - the spicy broth will warm your heart and melt your stomach).

I also like the interiors of Oody's, although, admittedly, the table at which we sat left much to be desired, for the height of its chairs made it difficult to climb aboard. Oody's is beautiful in its simplicity - solid blacks and whites, with bold colors in red and green coming from the chilis and other spices, something other restaurants in Makati cannot boast of much.

I ordered an Oody's pork noodle dish with gravy and fried egg. It was sweet, sticky, and delightful! A wee bit too spicy for my taste, but then again, Thai food is expectedly spicy, so I was to expect that from the Makati restaurant that is Oody's.

Service at Oody's was slow but friendly, and Oody's prices were a little too high for what I ate. Considering the fun of the meal, though, I would return. - Ganns
Goody! Oodys! We headed out to Greenbelt 3 not knowing where we wanted to eat. After checking out prices and disregarding a few because of the budget, we settled on Oodys!

The interiors and overall ambience of the place was good. Not loud to have to shout during conversations and not too quiet either to feel like you're sneaking food into a place where you're not supposed to.
The high chairs were actually pretty cool (not recommended for the vertically-challenged), just be careful not to move around so much unless you want to be flat on your newly aching back.

It took us quite a while to decide on what to order (except for Ganns who ordered his favorite). None of us wanted to be disappointed so we kept changing our minds and telling our very cooperative and friendly waitress to cancel that order and take this order instead. She was a good sport. I settled on a typical Thai dish -- Pad Thai, extra spicy. The food was good... not bad but not the best Pad Thai either. It wasn't that spicy either. Good thing they had chili flakes on demand to satisfy my spicy cravings.

As the lunch crowd poured in, the wait staff were becoming overwhelmed. The customer-waiter ratio was lacking. We had to wait several minutes for our canned sodas (additional order) to arrive which we could very well see sitting on the bar waiting for a wait staffer to pick them up. But still, the waiters there were very accomodating.

My decision? I'd go there again to try out the rest of their offerings particulary those "weird" fried spaghetti with gravy dishes.
-- Leigh

I've only been to Oody's once and the only time I was there, it wasn't a good experience for me. I ordered Pad Thai, and didn't find it exceptionally good, despite a friend's glowing commendation.
This was probably the reason why it took me forever to order -- I wanted my experience to be better than the last. To be on the safe side, I ordered Bagoong Rice, but then I thought, what's the point of ordering the same food I always have whenever I go to a Thai restaurant? So after 5 minutes deliberation (with myself), I decided to try something else -- Stir-fried noodles small something something Singaporean style -- I couldn't remember the exact name... but the food was great!!! I'll definitely have that again when I next visit Oody's.
Service was also very good and the waitress assigned to our table was very accommodating. She waited patiently, pen poised on paper, while we we discussed among ourselves what to order, what dish is better; occasionally turning to her for help on certain menu items. But she answered all our questions and noted down special requests such as to make the food extra spicy or otherwise. When the food was served, we were delighted to know that our requests were granted -- well mine, at least. I asked her to make my noodle dish less spicey, and it was. So, plus points for that!
I thought at first the Pad Thai I had then would prevent me from coming back to Oody's ever again. Turns out it's just one dish. Good thing the Makati Brunch Club decided to eat at Oody's that day, otherwise, I wouldn't have changed my mind about the resto -- I would definitely eat at Oody's again! -- Idj